Barbara Toennies
Founder, Writer, Producer
Barbara Toennies is an award-winning filmmaker with a background in news production, public relations and motion picture marketing. For the past twenty-five years, Barbara has been involved in the publicity campaigns for dozens of high-profile movies and has produced DVD bonus content for dozens of major motion pictures.
Ms. Toennies began her producing/writing career as an Associate Producer for John Stossel at WCBS News in New York.  She went on to become Associate Producer of the EMMY® award-winning documentary series Eye On New York.  She is also the recipient of an EMMY® for her work on a local news "Euthanasia" series for WCBS TV.
Burson-Marsteller, which at that time was the largest public relations firm in the country, subsequently recruited Ms. Toennies to set up their electronic news release department.  While at Burson, she produced dozens of electronic news releases, teleconferences and industrial films.
In 1984, Barbara relocated to Los Angeles and formed EMC West to write, produce and direct motion picture advertising/promotional campaigns as well as "behind-the-scenes" documentaries.   For the past ten years, Barbara has produced the majority of the bonus features for the Platinum Edition DVDs of classic Disney animated films including Snow White, Sleeping Beauty, Peter Pan, Bambi, The Little Mermaid, Jungle Book and 101 Dalmatians.  Now with Disney's Diamond Edition Blu-ray series, Barbara has pushed EMC West to become a leader in creating compelling HD, interactive bonus content such as the features for Alice in Wonderland Blu-ray and the Snow White Blu-ray.
Ms. Toennies also produces satellite broadcast coverage of film premieres — including Tim Burton's Alice in Wonderland in London, Cars at the Loew's Motor Speedway in North Carolina and Pirates of the Caribbean at Disneyland – as well as achievement reels for private events.  Previous reels include tributes to Garry Marshall, Woody Allen and Christopher Walken.
Ted Nicolaou
Writer, Producer, Director
Ted Nicolaou may be best known to the wider public as the director of cult films such as
Terrorvision
and
Subspecies
.  Ted splits his time between his own personal filmmaking projects and EMC West where he has written, produced and directed numerous ground-breaking bonus features.  He combined live action and 3D animation to
bring Disneyland's Dumbo Ride to life
; he traced the mystery of "The Schultheis Notebook" on the
Fantasia
Blu-ray and he pioneered the feature-length picture-in-picture commentary format with "Visualizing Narnia" for the Collector's Edition of
The Chronicles of Narnia: The Lion, The Witch and the Wardrobe
.
Whether it's camera angles or Texas barbecue, Ted is the man who knows where it's at!
Charlie Visnic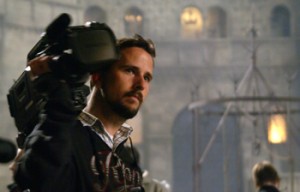 Producer, Director, Editor, D.P.
The multi-talented Charlie Visnic is EMC's resident mad genius.  Equally skilled lighting an interview, cutting a sizzle or circuit-bending custom instruments, Charlie's creative energy makes him a producer that clients demand.  You can see Charlie's captivating work on the
"Scratching the Surface" documentary for The Muppets
,
"Big Movie Comes to a Small Town" for The Chronicles of Narnia: Prince Caspian
and in the
Toy Story 3
character spots.
Starting March of 2010, Charlie spent a year doing one creative thing a day and documenting it on his blog, The B-Roll.  After being featured on MAKE magazine and other websites, this experience culminated in a gallery show in his native Fullerton, California.
Nathan Aceves
Producer,  Editor
Nathan Aceves is the cool calm captain of his edit bay….a Preditor with  hundreds of beautifully crafted pieces under his belt. It's hard to  pinpoint his specialty since he is equally at home editing a full length documentary as he is conceiving and executing a 15 second breakneck paced television commercial. Nathan's background as an artist and musician is evident in his work as his masterful use of music informs all of his pieces. He still plays with his band when he's not meeting an impossible deadline!
Gage Ullman
Head of Graphics
Our Artist in Residence, Gage Ullman, is responsible for the highly original graphics that help to define EMCs work. From cute to classy to cutting edge Gage and his team have created hundreds of graphic environments, title treatments, logos and fully animated projects that are beautiful to look at and make a lasting impression. Gage is a graduate of  UMBC (University of Maryland, Baltimore Campus).  He also taught himself to weld so he could build a 30′ long viking funeral boat on wheels for Burning Man.
Ryan Allen
Graphics
Ryan Allen is a key member of our animation team and a specialist in motion design. He has lent his talents to many of our most memorable projects. He is an avid student of the art who passionately follows trends in the world of graphic design and animation to keep us ahead of the curve. He is also seasoned drummer and sound designer who attended Berklee College of Music.